Canyon Lakes Golf Outings, Tournaments, & Charity Events
Tri-Cities Highest Rated and Most Popular Golf Course!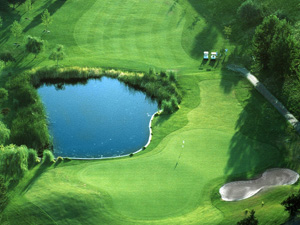 A golf outing, tournament or charity event at Canyon Lakes is a unique way to enjoy fellowship with friends, family, and colleagues. When you hold your golf event with us, you introduce your group to Tri-Cities highest rated and most popular golf course. Your golf outing is destined to become a tradition that you'll want to enjoy each year.
The picture towards the right is Hole #9 selected as one of the Northwest Dream 18 Holes. The picture below is the 3,000 square foot Champions Room. Ideal spot to host your dinner and awards banquet.
Full Golf & Meal Services
We have special rates and benefits for golfing groups that book events with us. Here's how it works:
Choose the Day (18 Hole Green Fee & Cart per Person):
Monday - Thursday ($18 Savings) $75
Friday & after 1 pm on Weekends ($13-$18 Savings) $80
Weekends and Holidays ($18 Savings) $85
We give a $2 per player discount to groups that booked the prior year.
Great Meal at the Best Golf Course!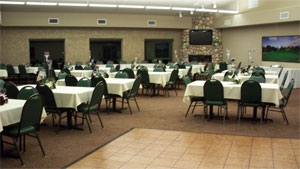 Choose the Meal per Person (Minimum of 25):
Sandwich Buffet - $13.00-$15.00
Hamburger BBQ or Spaghetti - $15.00
Hamburger and Hotdog BBQ - $16.00
Pasta Bar or Lasagna - $18.00
Pulled Pork Sandwiches - $18.00
Taco Bar (Beef, Chicken and/or Pork) - $19.00-$21.00
Tri Tip, Steak, Salmon or Chicken - $26.00
Combination of any of the 2 - $28.00
Prime Rib - $33.00
Prime RIb and one other - $35.00
Design your own (prices negotiable)
Each meal (except sandwich buffet) comes with salads, vegetables, fountain beverages and much more.
Facility Use and Services:
Canyon Lakes Champions Room FREE (Seats 200 People - $1,000 Value)
Duck Pond Lounge (Seats 40 People)
Deck (Seats 40 People)
GPS on each Cart
Beverage Carts
Hard Liquor Bar
State of the art Tournament Scoring System on 86" HDTV
Surround Sound Speaker System / Microphone
Individual Names on each Cart
Score Cards & Rules Sheets
Closest to the Pin, Longest Drive, and/or Longest Putt Signs
FREE 18 Hole Championship Putting Course ($5.00 per player value)
FREE Range Balls ($9.00 per player value)
20% OFF on Gift Certificates, Duck Bucks, and Merchandise
First option to reserve the same date for the next year
Getting Started
The hardest part is reserving a date. Canyon Lakes is very popular, and we go on a first come - first serve basis. However, once you book at Canyon Lakes, you have the first choice at that date the following year.
Please fill out the form on this page to receive our 2023 Golf Group Rates & Information Flyer. You'll be glad you did.